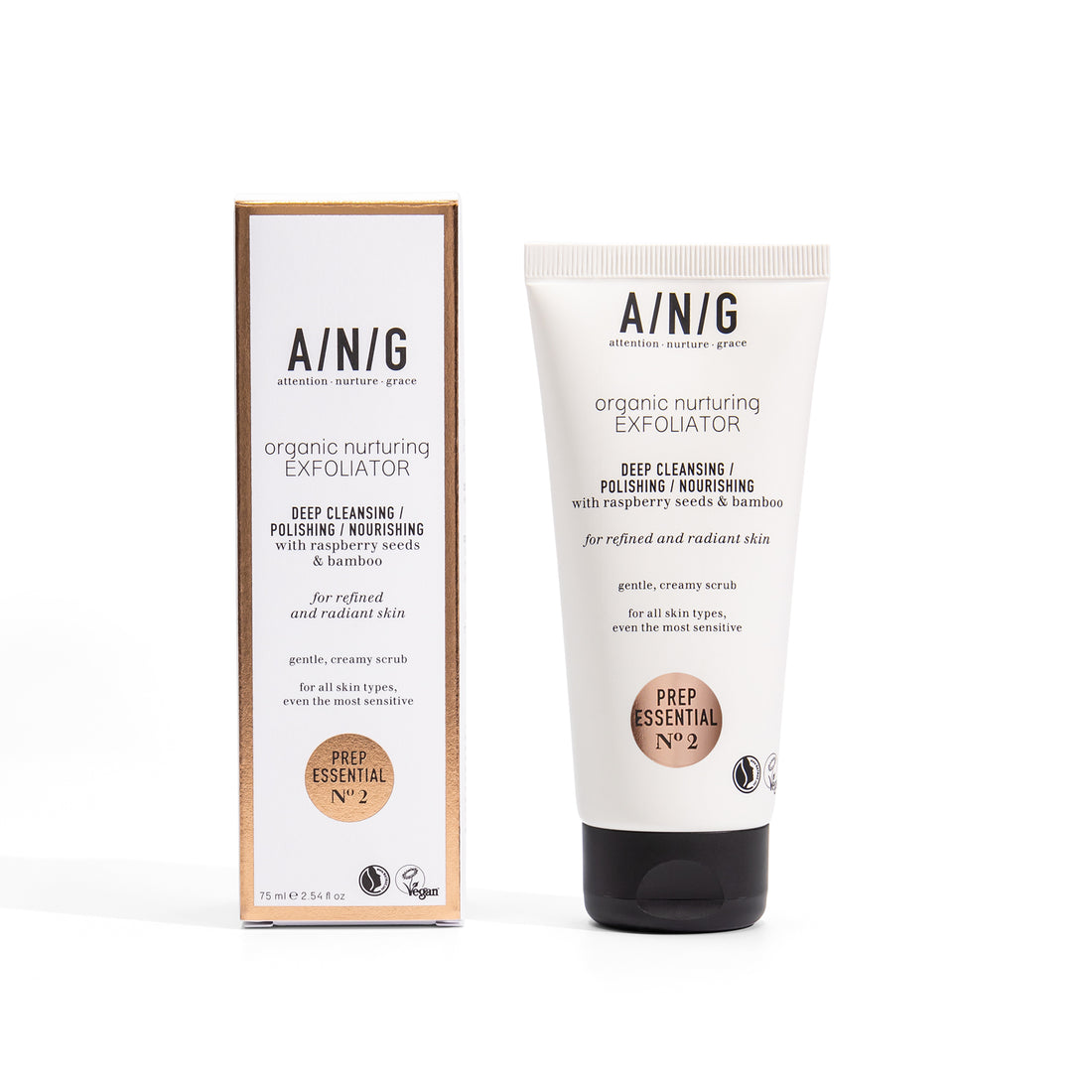 Organic Nurturing Exfoliator
Milde, creamy gezichtsscrub met de speciale A/N/G-blend van reinigende en voedende werkstoffen voor het effectief verwijderen van dode huidcellen. Je huid ziet er onmiddellijk gladder uit en heeft een mooie glow. Voor een verfijnde en egale huidstructuur en healthy-glowing skin.
MULTI-BENEFIT FORMULE
Wanneer je deze exfoliant één à twee keer per week gebruikt is het de perfecte aanvulling op de cleanser. Met een zachte, creamy textuur worden de dode huidcellen door een slimme combinatie van twee verschillende grootte peelingdeeltjes verwijderd. De grotere (maar nog steeds zachte) frambooszaadjes zorgen ervoor dat de dode huidcellen van de huis los komen. Terwijl de bamboekorrels de huid egaliseren en polijsten. Karitéboter en frambooszaadolie voeden de (nieuwe) huidcellen. Voor een diep gereinigde huid met een healthy glow.

ESSENTIËLE ACTIEVE INGREDIËNTEN
coco-glucoside
100% biologisch afbreekbaar en een van de mildste oppervlakteactieve werkstof die onzuiverheden en make-up doeltreffend verwijdert.


bambusa extract (bamboo)
Verfijnt de huidtextuur en zorgt voor een heldere teint.


biologische frambooszaadjes (bio)
Verwijdert effectief dode huidcellen en is een natuurlijke bron van vitamine C en E.


karitéboter (bio)
Zorgt ervoor dat de huid zacht en glad blijft en ondersteunt het beschermend vermogen van de huid tegen schadelijke invloeden van buitenaf.
Verzending
Verzending binnen Nederland gratis bij bestellingen van €50 of meer.
Verzending buiten Nederland alleen mogelijk bij bestellingen van €50 of meer.