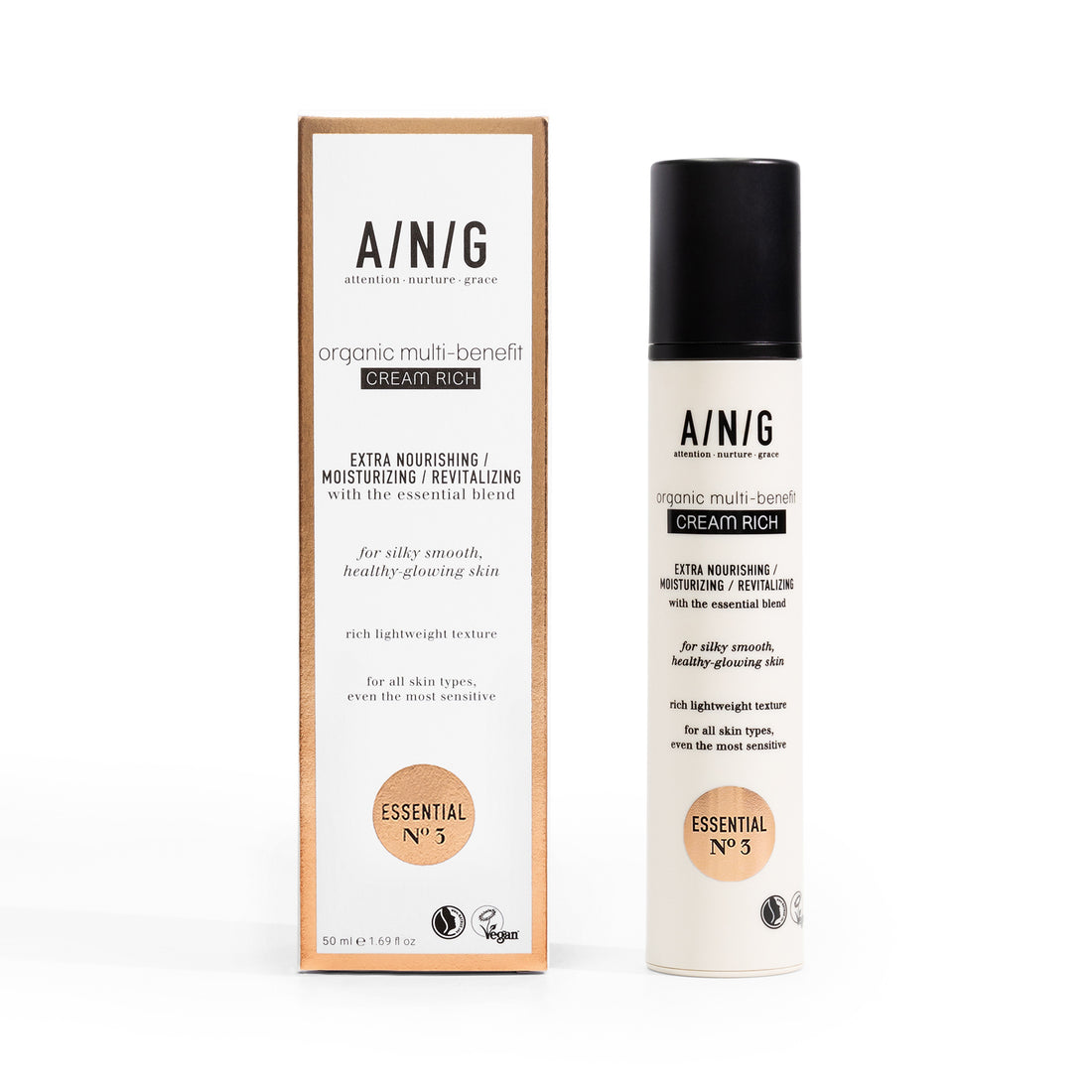 Organic Multi-Benefit Cream Rich
Deze rijke maar luchtige MULTI-BENEFIT CREAM RICH bevat bioactieve ingrediënten die alle huidfuncties stimuleren. De A/N/G essential blend is verrijkt met vitamines, plantenextracten en antioxidanten om de huid direct te voeden, te beschermen en te herstellen. We raden CREAM RICH aan voor droge huid en/of in koudere weersomstandigheden.
MULTI-BENEFIT FORMULE
De CREAM RICH is ontwikkeld voor maximale huidtolerantie. Voor alle huidtypen, zelfs de meest gevoelige. De rijke maar lichtgewicht textuur bestaat uit een innovatieve formule die snel door de huid wordt opgenomen. De Cream Rich is geschikt als dag- en nachtcrème. Overdag beschermt en hydrateert hij de huid op natuurlijke wijze en 's nachts regenereert en voedt hij de huid. Met een zeer doeltreffend anti-rimpeleffect. Rijk aan antioxidanten om oxidatieve stress door vrije radicalen, de oorzaak van veroudering, tegen te gaan. Hydrateert de huid en zorgt ervoor dat vocht wordt vastgehouden, terwijl tegelijkertijd de huidbarrière wordt ondersteund. Kalmeert de huid en helpt haar weer in evenwicht te brengen. Sterke verbetering van de huidconditie. 

ESSENTIAL ACTIVE INGREDIENTS
edelweiss
Vermindert door UV veroorzaakte fotoveroudering van de huid. Boordevol antioxidanten. Verhoogt de huidtolerantie. 


acerola & tarwekiemolie
Rijk complex van vitamine C, B en E. Vermindert fijne lijntjes en rimpels. Voedt de huid intensief en verhoogt de collageenproductie.


argan dry oil (bio)
Vermindert rimpels en verstevigt de huid. Helpt de talgproductie in evenwicht te brengen.


babassu-olie (bio)
Hydrateert intensief en heeft een antibacteriële werking. Maakt de huid zijdezacht.


olijf squalane (bio)
Hydrateert de huid intens en maakt de huid zijdezacht.
Verzending
Verzending binnen Nederland gratis bij bestellingen van €50 of meer.
Verzending buiten Nederland alleen mogelijk bij bestellingen van €50 of meer.