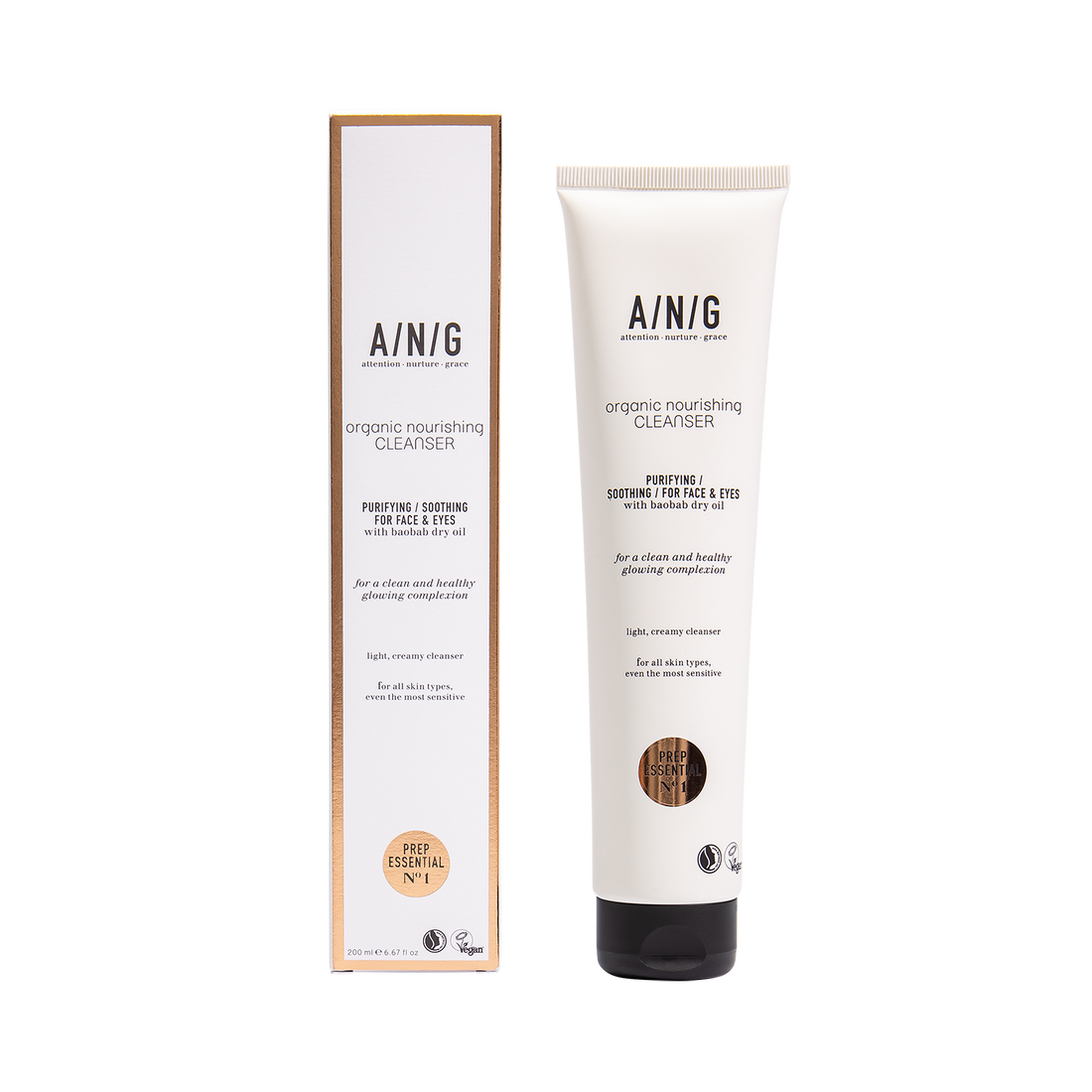 Organic Nourishing Cleanser
Deze lichte, creamy cleanser met de speciale A/N/G-blend van biologische werkstoffen reinigt, voedt en verzacht de huid. De zachte cleanser bevat geen SLS. De cleanser verwijdert effectief onzuiverheden, maar ook moeiteloos (oog)make-up. Voor een doeltreffende reinigingsroutine dat de huid ook meteen voedt, verzacht en de balans van de huid beschermt.

MULTI-BENEFIT FORMULE
Deze multi-benefit formule is geschikt voor alle huidtypes, dus ook voor de zeer gevoelige huid. Voor de speciale werking van de Cleanser hebben we ons laten inspireren door de natuurlijke opbouw van de huid. Dankzij het baobabextract in de vorm van droge olie, is de Cleanser een weldaad voor zowel de droge alsook de vette huid. De droge baobab olie dringt snel en diep door tot in de opperhuid, de huidlaag waarin de talgproductie plaatsvindt. In geval van de droge huid stimuleert de droge olie de aanmaak van talg, zodat de huid extra wordt gevoed en minder droog aanvoelt. Bij een vette huid wordt de aanmaak van talg juist geremd, omdat de olie de huid het signaal stuurt dat er zich voldoende talg op het huidoppervlak bevindt. De formule herstelt de huidbalans en is daardoor geschikt voor alle huidtypes.

ESSENTIËLE ACTIEVE INGREDIËNTEN
coco-glucoside
100% biologisch afbreekbaar en een van de mildste oppervlakteactieve stoffen die effectief onzuiverheden en make-up verwijdert.


borago dry oil (bio)
Heeft een ontstekingsremmende werking en versterkt de weerstand van de huid.


baobab dry oil (bio)
Werkt hydraterend, beschermt de huidbalans en heeft een anti-oxidatief effect. Versterkt de weerstand van de opperhuid zonder poriën te verstoppen.
Verzending
Verzending binnen Nederland gratis bij bestellingen van €50 of meer.
Verzending buiten Nederland alleen mogelijk bij bestellingen van €50 of meer.